Posts: 2
Joined: Fri Jun 29, 2018 1:16 pm
It is more dark green than blue San.
Rebecca Bowater
Posts: 675
Joined: Fri Jul 03, 2009 9:49 am
Location: Havelock North
Contact:
Hi Rebecca,

Thanks, yep, I know what colour it actually is- I just wondered how it came to look so blue in the photo?


cheers
Posts: 335
Joined: Sun Jun 26, 2011 5:49 pm
Rebecca's also asked the question whether we know of any other Northern shovelers still in NZ at the moment? A quick look on this forum, and on eBird suggests the most recent sighting prior to today was of the Miranda bird on the 4th August.

Have the other birds departed (or gone into hiding to moult?), or have we just stopped reporting them now that everyone's ticked them off?
Posts: 918
Joined: Sat Aug 07, 2010 10:22 pm
Now Northern Shovelers are in south-east Asia now, finished their autumntime migration, in eclipse plumages.
Posts: 13
Joined: Sun Jul 05, 2009 3:45 pm
It was still present early afternoon of 16 October.

Peter Field has asked (off line) whether this bird might contribute to the local gene pool, which got me seeing what species Northern Shoveler has hybridised with.

McCarthy in his Handbook of avian hybrids of the world (2006) lists:
North American Wood Duck
Northern Pintail
Common Teal
Cinnamon Teal
Blue-winged Teal
Falcated Teal
Baikal Teal
Mottled Duck
Eurasian Wigeon
Argentine Red Shoveler
Mallard
Garganey
Gadwall
Ferruginous Duck
Muscovy Duck
Ringed Teal

What was interesting is how similar some Northern Shoveler x Blue-winged Teal are to Australasian Shovelers! - e.g. see Dutch Birding 40: 71-81, and posts at Arizona Field Ornithologists.

David
Posts: 442
Joined: Sat Aug 27, 2011 7:15 pm
Location: Auckland
Contact:
Northern Shoveler x Blue-winged Teal photos for reference. Really interesting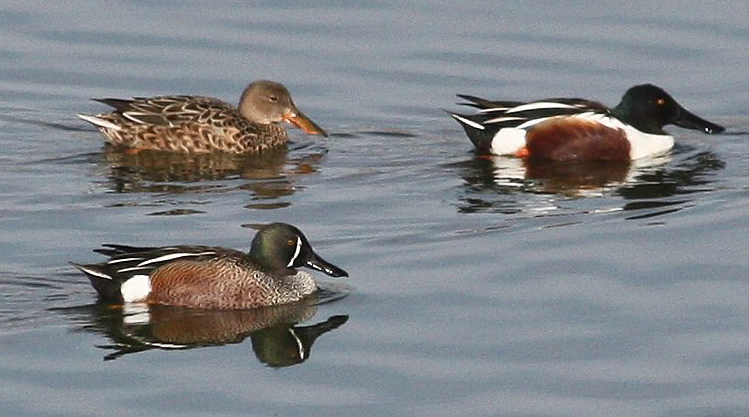 Posts: 806
Joined: Wed Sep 24, 2014 5:23 am
As David's list demonstrates Anas ducks hybridise prolifically--particularly in captivity but also in the wild. Where I come from in British Columbia, it's fairly normal to come across 2-3 obvious dabbler hybrids while out and about and occasionally you come across diving ducks as well (eg Tufted x Lesser Scaup or Redhead x Ring-necked Duck). In that sense it has always surprised me how few (if any?) Mallad x Aussie Shoveler hybrids seem to turn up in NZ. Mallards have been recorded hybridising with Canada and Brent Geese for goodness sake! So definitely possible that these drakes would have a go if they stick around, especially since some have exhibited courtship behaviour.

Also worth taking note of the female shoveler in the pic Oscar shared--shows the prominent pale outer tail feathers, overall blonde appearance, and orange sides to the bill. Worth keeping an eye out!

Russ
---